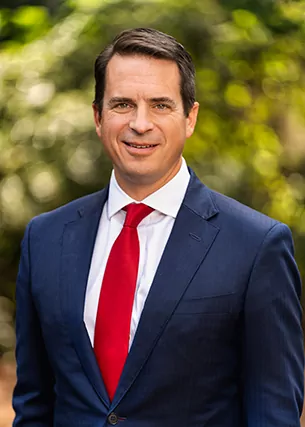 Tripp Wiles
Attorney and Counselor at Law
M. Emerson "Tripp" Wiles, III was born in Charleston, South Carolina and was raised in Tennessee. He graduated from The Citadel with a B.A. in Political Science and holds a M.A. from Hawaii Pacific University in Diplomacy and Military Studies. Tripp earned his Juris Doctorate from the University of Memphis Cecil C. Humphreys School of Law. He is a former Army officer and served in Germany and Macedonia. After serving in the Army, Tripp worked as a research analyst for both the U.S. Army Central Identification Laboratory-Hawaii and the Defense POW/Missing Personnel Office. Tripp authored the book Forgotten Raiders of '42. In December 2013, Tripp was appointed by Governor Nikki R. Haley to serve on the Charleston County School Board and was later elected for another term. Over the past decade Tripp has assisted hundreds of individuals in protecting their families and preserving their legacies through customized estate plans. Tripp enjoys spending time with his wife and children.
Matt Chandler
Attorney and Counselor at Law
Matt is originally from Mount Pleasant, South Carolina. He graduated from the United States Military Academy at West Point in 2010 and served as an Army Officer at Fort Bragg, North Carolina and on a year-long deployment to the Middle East. Matt earned his Juris Doctorate from the University of Georgia School of Law. During law school, he interned for the Honorable Susan Tate of the Athens-Clarke County Probate Court in Athens, Georgia and for Wiles Law Firm. His note, Standoff Between the Trademark Trial and Appeal Board (TTAB) and the Federal Courts: What "Houndstooth Mafia" Means for Judicial Authority Over Administrative Agencies, is published in the 25th volume of the Georgia Journal of Intellectual Property Law. He currently focuses his practice on asset protection and drafting personalized estate plans for clients. Matthew enjoys spending time with his wife and daughter.
J. Matthew Aronson
Attorney and Counselor at Law
Matthew received his bachelor's degree from the University of South Carolina and was a member of the inaugural class at the Charleston School of Law. Following law school, he clerked for the Administrative Law Court and then joined the South Carolina Department of Consumer Affairs as a staff attorney and Assistant Consumer Advocate. Matthew then relocated to Atlanta, GA and worked for the AmLaw Top 50 firm of Troutman Pepper. Matthew enjoys spending time with his wife and their two daughters.
Kyla Joyce
Attorney and Counselor at Law
Kyla is originally from Pittsburgh, Pennsylvania. She graduated from Slippery Rock University with a double major in Economics and Finance. She obtained a Juris Doctorate from Charleston School of Law. Kyla focuses her practice on trust and probate administration. She enjoys spending time with her family, fiancé, and friends.